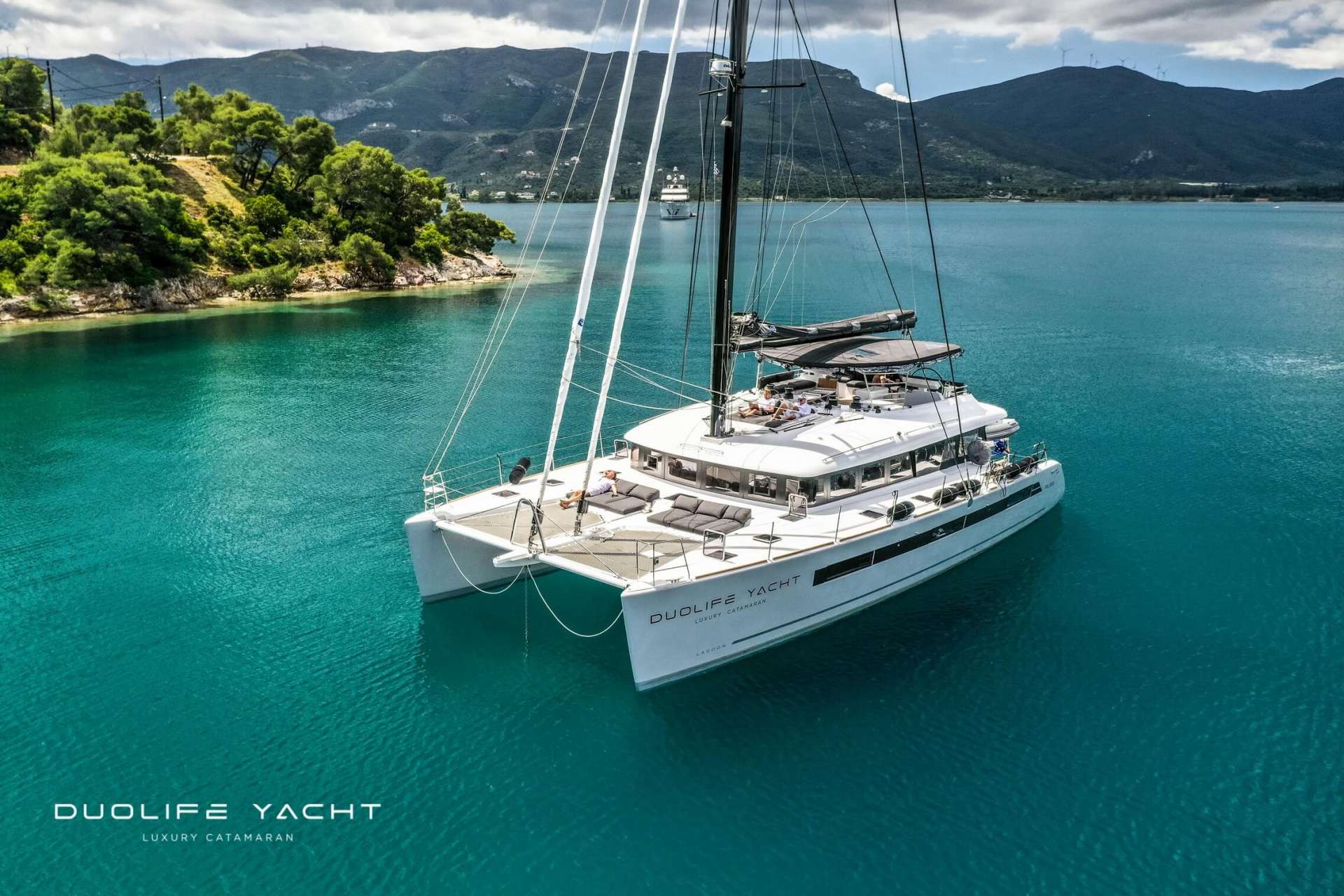 A luxury experience tailor-made just for you. DuoLife Yacht is one of the most luxurious 19-metre sailing catamarans in its class (62 feet).

The yacht can accommodate up to 10 guests. A three-person crew ensures your total comfort while cruising for weeks around the most beautiful regions of the Caribbean and Croatia.

Enjoy luxurious cruises aboard the sailing catamaran Lagoon 620 Essense "Duolife". "Duolife" is designed for you to enjoy a leisurely freedom in spacious interiors. For more active guests, we offer a sailing instructor, motorboat, small sailboat, and water sports such as subwinging.

The DuoLife design is enriched with Essense styling, with black window framing, mast, boom and canopy interior. The distinctive grey of the hulls reflects the stylish design of the catamaran, distinguishing it from its less luxurious cousins.

Comfort inside the yacht is ensured by the power generator, ventilation, windmills, hot water, air conditioning and heating.

High-class Bose hi-fi audio equipment in the living room, along with JBL and Sony in the cabins, provides sublime sound quality and the capability of setting up a personalized playlist.

There's also much more besides! A 43-inch Sony TV in the living room, 10-inch tablets in booths and the common area, PlayStation 4 Pro, VR goggles, professional projector and the possibility to project movies on a big screen.

We should also mention the open-concept kitchen—the chef's kingdom of cooking and food design equipped with: refrigerators, an ice maker, grill, kitchen, stove, coffee maker and original, dedicated DuoLife Yacht tableware.
Accommodations:
Cabins: 5 bedroom suites (each with its own bathroom)
Sleeps: 10 (guests) + 3 crew
Bathrooms: 5 + 1
Crew berths: 2 + 1 + bathrooms
Dinette
Open galley